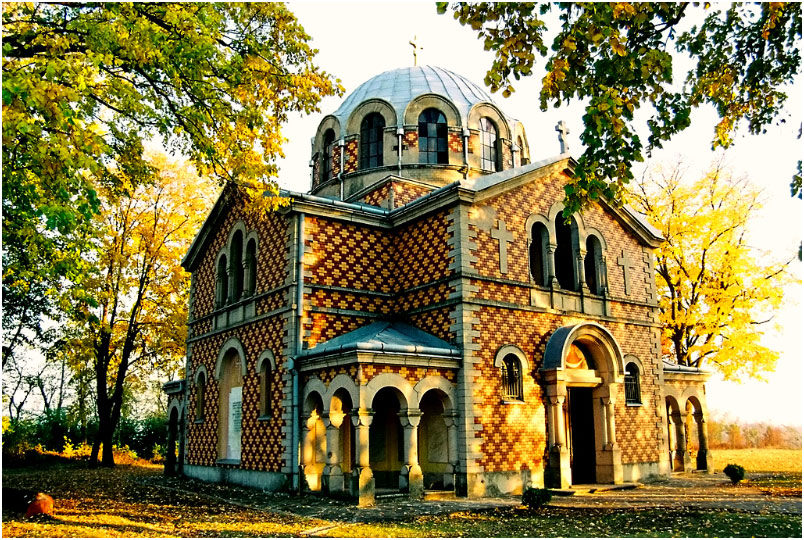 Russian colonel NikolayRaevsky, who inspired Tolstoy to create the legendary count Vronsky, the lover of Anna Karenina, died defending Serbia from the Turks, near the village of GornjiAdrovac.
The end of possibly the greatest love story of all times happened near Serbian village of GornjiAdrovac (eng. Upper Adrovac), where a colonel who inspired Leo Tolstoy to create the character of count Vronsky, the famous lover of Anna Karenina from the eponymous novel, died defending Serbia from the Turks. Tolstoy was inspired by colonelNikolayRaevsky who was thought to be the writer's relative.
In the last dramatic pages of "Anna Karenina", the most translated work of world literature (after the Bible), count Vronsky went to the Serbian-Turkish war. Tolstoy's character felt he wouldn't come back from it and was about to leave on a train with hundreds of Russian volunteers saying he needed no recommendation for death.
It's no wonder the great Russian writer intended such an ending for Vronsky, since colonel Raevsky did actually die in that war. It was year 1876 and Tolstoy's legendary novel "Anna Karenina" wasn't even finished at the time.
When a letter from the Serbian king Milan Obrenović reached the estate of the Raevsky, Colonel's mother Anna Raevsky didn't allow it to be opened. She felt it was bad news, and said only that her son died like a true Raevsky.
Anna Raevsky left a large sum of money used twenty years later to build a colorful Russian church among the old lindens in the village of GornjiAdrovac (eng. Upper Adrovac), near the Serbian town of Aleksinac, where the heart of her son and Tolstoy's inspiration for count Vronsky had stoped beating.
A doctor named Vladan Djordjević spoke with colonel Raevsky only few hours before he died. The doctor found this encounter so interesting he even wrote about it. He described the colonel as a gloomy and silent man, but also wrote he was very happy and cheerful on the day of his death. Even made jokes.
Raevsky rode to his death dressed in a shabby uniform of a Serbian colonel and told the doctor he would defend the honor of his glorious family. So began the legend of colonel Raevsky.
And it says colonel Raevsky has had three hearts. Two remained in Russia: one belonged to his homeland and the other to a mysterious woman because of whom he left Russia in the first place. His third heart belonged to Serbia.
The story has it that Raevsky wanted to be buried on the place where he would die, and his heart taken to Russia. Apparently, a Russian military surgeon took out the colonel's heart, but it was buried in Serbia to stay here forever, while the masses of grateful Serbs sent the colonel's body to his homeland with full state honors.
It is not known whether the Raevsky family "looked like all happy families", or is it was "unhappy in its own way", but one thing is certain, it was a famous and respected family. Nikolay Raevsky was named after his grandfather, a hero-general from the Russian Patriotic War whose accomplishments were immortalized in Tolstoy's novel "War and Peace".
Colonel's father fought against the Turks, and founded the city of Novorossiysk. He was immortalized in Pushkin's poem "The Caucasian Prisoner". Colonel Raevsky's grandmother was a grand daughter of Mikhail Lomonosov, one of the leading Russian scientists of all times.
In times of Raevsky's death Serbia was fighting a liberation war against the Turks. Beside the brave Russians, Serbian fighters received aid from the Bulgarian, Czech, Norwegian, British, French, Greek and Montenegrin volunteers, but also from the famous Italian "garibaldini" supported by Giuseppe Garibaldi himself.
Although Tolstoy wasn't happy to see many Russian young men go and fight in "foreign wars", he was very proud of their spirit and love of freedom. And Serbia certainly is. That is why it carefully treasures one of those brave hearts – the heart of "count Vronsky".